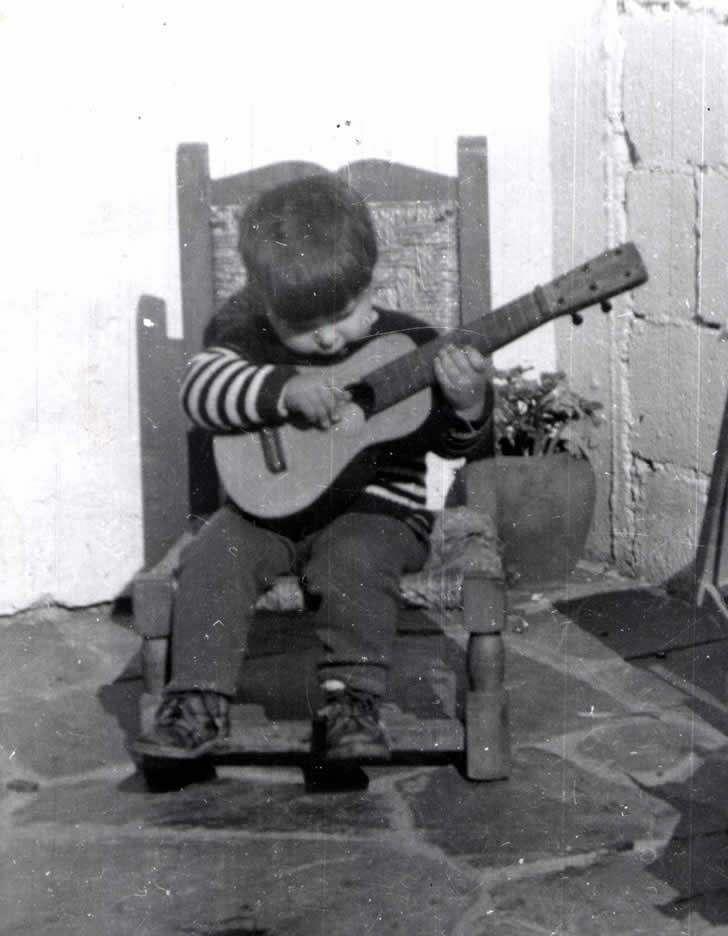 Dunas
Mateando en Suivalan
El Hechicero
Born in 1963, and working from a very early age in his father's guitar workshop in Montevideo, Uruguay, Ariel Ameijenda grew up in direct contact with musicians from many different musical genres. As this diverse group of musicians tried out instruments, Ariel was exposed to styles of classical, tango, flamenco, and South American popular and folk music. Unlike many instrument makers that do not play music, Ariel also learned to use the various instruments he was surrounded by to make music. This exposure gave him an unusually eclectic view of the musical world.

By the age of 13, he had progressed to making his own instruments. It was understandable that he would develop a strong interest in string instruments from different cultures. As a 17 year old, Ariel heard Ravi Shankar (the great Sitar master from India) play for the first time.
Ariel was so moved by Shankar's music that he immediately began to construct a Sitar for his own studies. His formal University training in Musicology strengthened these interests. Ultimately they led him to several periods of extended studies in Delhi, India with another Sitar master, Saeed Zafar Khan.
In 1994 Ariel designed and constructed the "Sitarel" for his personal use. This instrument sounds like a Sitar, but can be played in an upright position like the Double Bass. While the technique for the left hand is the same as the traditional Sitar, the right hand can employ either a "mizrab" (an Indian plectrum), or a bow of an ancient eastern style to produce its sound. Ariel also equipped his Sitarel with a pick-up for plug-in amplification.
In his life as a multiple instrument player, Ariel has collaborated with a long list of musicians from different styles (classical, jazz, pop, fusion, etc). Most notable of these activities is his 2001 recording "Ofrenda" with percussionist Nicholas Arnicho "Ofrenda". It has completely sold out of two printings. He has also composed music for theatre on many occasions, winning the critic's choice "Florencio" award in 1997, as well as a nomination for the same prize in 1999.